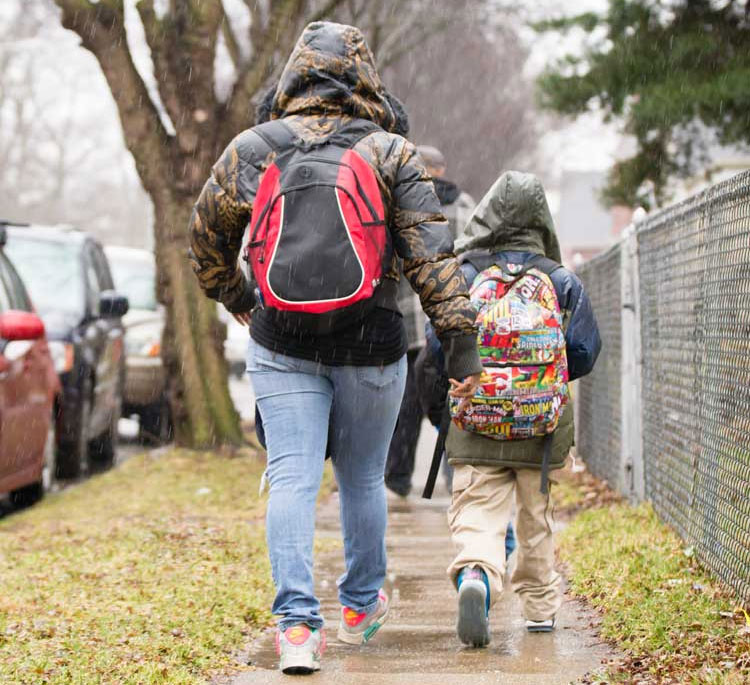 Did you know that there is new funding for Safe Routes to School infrastructure projects?
In 2017, the Oregon Legislature passed House Bill 2017, which includes funding for safe biking and walking connections to schools. Section 123 of HB 2017 specifies parameters for how to use the money. HB 2017 requires $10 million per year be taken off-the-top and deposited into the Safe Routes to School, or SRTS, Fund (ORS 184.740) until 2023, when that amount increases to $15 million per year. HB 2017 specifies a few program design elements, including match rates and priority locations. A cash match of 40 percent is required, which may be reduced to 20 percent in locations near Title I schools, safety corridors (to be defined by the OTC), or within small communities (population 5,000 or less). HB 2017 requires the OTC to prioritize SRTS projects within one mile of elementary and middle schools. The OTC has authority over all other program design and administration aspects of the SRTS Fund, including the ability to adopt rules specifying the application process and selection criteria and as guided by the existing statute (ORS 184.740).
Many of the elements outlined in the HB 2017 legislation need to be more clearly defined prior to the development of the new infrastructure program. A Rulemaking Advisory Committee was formed to do this work and guide amendments to the administrative rule (OAR 737-025) that governs the existing Safe Routes to School Fund. Amendments are needed to better align with the legislative intent, any restrictions of the funding source and current and future needs.​
How can you take part in this new funding stream?
Thanks to our friends at Eugene-Springfield Safe Routes to School for developing and sharing their Infrastructure Evaluation Scorecard. The Scorecard helps you evaluate infrastructure and built environment fixes in school neighborhoods. You can equally compare potential fixes to your built environment by looking at speed limit, road width, crash data, Equity, and mutual benefit (like does this improvement help people who ride public transportation, go shopping, seek recreation or education opportunities, etc.)
With new funding for Safe Routes to School Infrastructure projects coming down the pipeline, communities can use this scorecard to illustrate the importance of one project over another. For more information, or for an example of the spreadsheet that is used with the scorecard please contact the Eugene-Springfield SRTS Program Manager, Sarah Mazze at 541-790-7492.
Download the SRTS Infrastructure Scorecard Here.