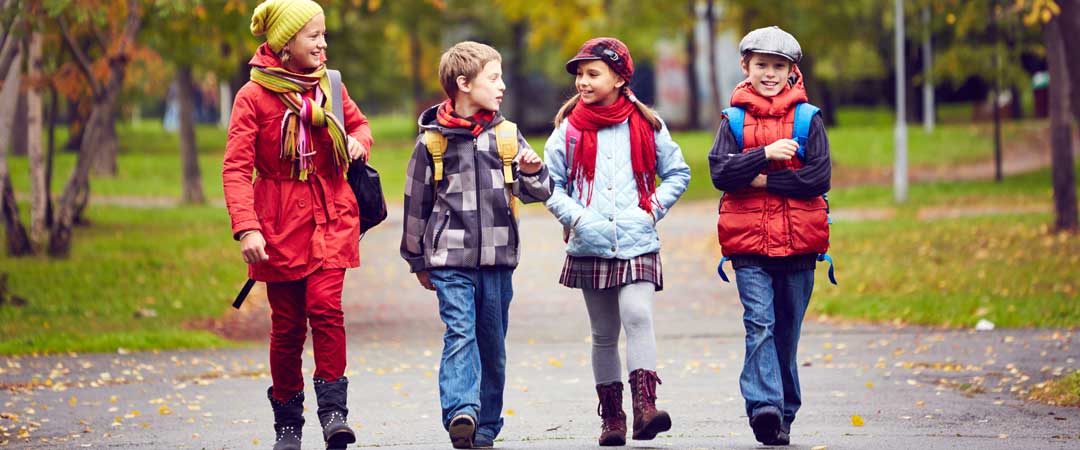 Beyond the Physical: Mental and Social Benefits of Walkable Communities
Walking and walkability is not only good for our bodies, but it's also good for our minds and interpersonal relationships. Learn about the myriad of benefits of walking that extend beyond our individual physical health. This webinar is intended for those who are familiar with topics and issues related to walking and walkability.
Attendees of this webinar will be able to:
Explain how walking and walkability are associated with social connectedness and a positive sense of well-being.
Give examples of the mental and social benefits correlated with walking and walkability.
Discuss ways walking advocates should be engaging with topics related to this work.
Speaker:
Crystal Bowne: Program Manager, America Walks
Going Big: Using Walk to School Day to Advance Road Safety for Everyone
Learn how Walk to School Day and Vision Zero can join together to lead an entire community towards creating safer places for walking, biking and driving. Each October Walk to School Day events are energizing and get students, families, community leaders and school officials excited about the benefits and possibilities of safe walking and biking to school. Vision Zero is being used by communities across the country to commit to zero traffic deaths and serious injuries. Already, half of surveyed Walk to School Day organizers said their events lead to policy and engineering changes that improve the safety of walking and biking for students throughout the school year. This can spark change to make it safer for the entire community. Hear concrete action steps for how you can start or join action in your community and what applying a "Vision Zero for Youth" approach looks like.  
Speakers:
Nancy Pullen-Seufert: Director, National Center for Safe Routes to School (coordinators of Walk to School Day since 1997, at walkbiketoschool.org); Associate Director, Pedestrian and Bicycle Information Center
Leah Shahum: Director, Vision Zero Network
Slowing Down Traffic Near Your School
Fast moving traffic around schools and neighborhoods prevents students from walking to school in some places. Nationwide, there's growing recognition of the need to slow down traffic and prioritize safety through Vision Zero and other commitments to eliminate traffic deaths and serious injuries.  However, in many places, efforts to lower speeds or control speeding can be met with public pushback or struggle to gain political support. Starting in school zones or areas where children frequently walk and bike may provide the support communities need to address road safety. Hear about ways to slow speeds around schools and examples of what communities have accomplished in making walking and biking to school safer. 
Speakers:
Seth LaJeunesse, Senior Research Associate, UNC Highway Safety Research Center
Jo Anne Judge-Dietz, Public Health Nurse, Olmsted County (MN) Public Health
Bethany Folsom and Mary Snodgrass, Safe Kids Huron Valley, CS Mott Children's Hospital
Youth as Leaders in Improving Walking and Biking Safety
Through Vision Zero for Youth and events like Walk and Bike to School Day, communities come together to create safer places for youth to walk and bike. These efforts also provide an opportunity for youth in to take the lead in promoting safety near their schools and in their neighborhoods. Learn about the role of youth as agents of change from youth leaders who have been engaged in improving their environment for walking and biking and from organizations that work to empower youth as leaders in their communities.
Speakers:
Alison de Beaufort, Founder, Vision Zero Youth Council
Sandy Spavone, Executive Director, Family, Career and Community Leaders of America
Family, Career and Community Leaders of America Student Leaders

Marcia Williams, Vice President of Community Service, Family, Career and Community Leaders of America
Grace Allphin, Vice President of Programs, Family, Career and Community Leaders of America
Learn the Ropes: How to Start Your Safe Routes to School Program – Safe Routes to School National Partnership
New to Safe Routes to School? This webinar will highlight different types of programs and how each was started. Hear from city and school staff on best practices and ideas for how to start a program in your community.
Safe Routes to School Basics
This webinar will provide you with some general information about the SRTS program and discuss the following. What is Safe Routes to School? How the six E's can be used to help affect change in your school community. The SRTS Action Planning Steps, Federal Funding, and available resources.
2019 ODOT Safe Routes to School Funding Opportunities – Oregon Department of Transportation
This webinar is for parties interested in applying for ODOT Safe Routes to School Infrastructure and Non-Infrastructure Grants. Viewers will learn about upcoming funding opportunities, and tips for how to apply.