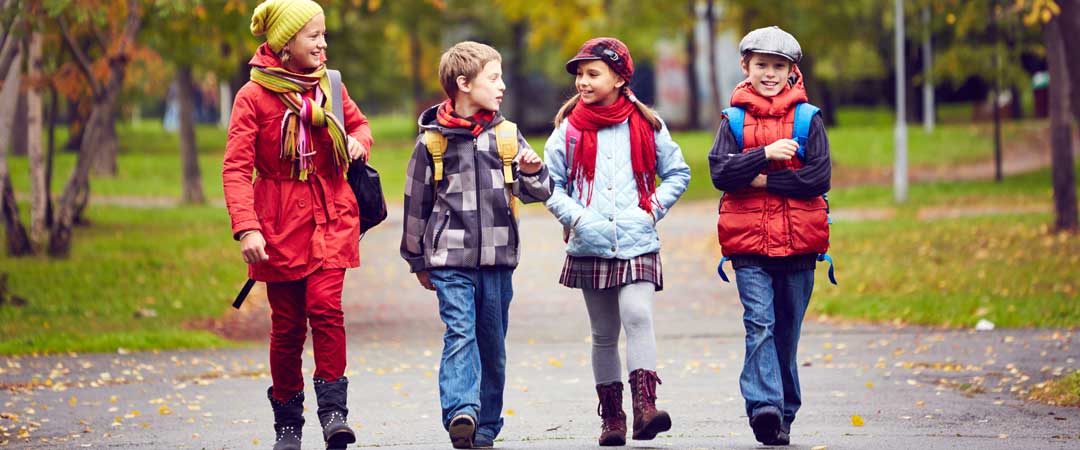 Stay tuned for upcoming webinar announcements.
Creating, Growing, and Sustaining Walking School Bus and Bike Train Programs
Tuesday, September 21, 2021 | 12:00 – 1:00PM 
Walking School Busses and Bike Trains are a great, active way for students to get to and from school, while socializing with friends and learning pedestrian and bike safety. Join the Oregon Safe Routes to School team to learn how to start, grow, and sustain a Walking School Bus and Bike Train program in your community.
Planning Fall Walk+Roll Day Events
Tuesday, August 17, 2021 | 12:00 – 1:00PM 
Join the Oregon SRTS team to learn more about resources to plan your International Walk+Roll to School Day event in October, along with new Walk+Roll events to keep students moving throughout the fall and winter.
Back to School Commutes with ODOT and Oregon Department of Education
Tuesday, July 20, 2021 | 12:00 – 1:00PM 
After an unprecedented year, this fall's return to school is the perfect time to encourage new school commutes, and emphasize social and emotional wellness. The Oregon Department of Education and the Oregon Department of Transportation teamed up with education and transit leaders throughout Oregon, and shared examples of ways they are innovating on SRTS.
ODOT SRTS Regional Hub Launch
Thursday, June 24, 2021 | 2:00 – 3:00PM 
This webinar covered the new regional hub structure for SRTS practitioners and providers, provided insight on how to plug in to the new model, and shared what the state program has in store for this year.
ToGo Annual Meeting
Friday, June 4th, 2021 | 10:00 – 12:15PM 
The Transportation Options Group of Oregon met to discuss new programs, updates from ODOT and SRTS, and more!
Get There Oregon SchoolPool Tool Training
Friday, May 7, 2021 | 10:00 – 11:00AM 
Get There Oregon, a statewide trip planning and ride-matching tool recently launched Get There SchoolPool to help families share the ride to school.
RideAmigos, the third party vendor that operates the Get There platform, offered a training for Oregon Transportation Options and SRTS practitioners who are interested in using the new tool. Learn how Get There SchoolPool could help you or your organization.
Bike Rodeo Webinar
Thursday, May 6, 2021 | 1:00 – 2:00PM 
Prepare to host a healthy, fun bike rodeo for the Walk+Roll Spring Challenge with Bike Rodeo Tips & Tricks. Laughton Elliot-DeAngelis and Sarah Mazze will share different ways to implement this fun event.
ODOT Resource Webinar
Tuesday, April 13, 2021 | 9:00 – 10:00AM 
Oregon Safe Routes to School Annual Meeting – Session 3
Wednesday, August 19, 2020 | 11:00 – 12:00PM 
Agenda:
 www.oregonsaferoutes.org
Oregon Safe Routes to School Annual Meeting – Session 2
Wednesday, August 5, 2020 | 12:00 – 1:00PM 
 www.oregonsaferoutes.org
Oregon Safe Routes to School Annual Meeting – Session 1
Wednesday, July 29, 2020 | 12:00 – 1:00PM 
Overview on the SRTS Network and LC goals (5 minutes) · Purpose of Annual Meeting Series (2 minutes) · ODOT Safe Routes to School program updates (3 minutes) · The New E: Engagement + Q &A (45 minutes) · Next steps and preparation for next meeting (5 minutes) www.oregonsaferoutes.org
Engineering and Infrastructure
Thursday, June 4, 2020 | 12:00 – 1:00PM 
As SRTS practitioners, gaps in infrastructure are constantly coming to light. Whether, through walk audits, action planning, or concerned parents the list grows. Prioritizing these projects for funding in transparent, objective, and equitable ways is an important part of the work. Learn about several tools that Oregon practitioners have used to prioritize projects ranging from bike parking to raised crossings.Speaker:
Laughton Elliott-Deangelis, SRTS Coordinator, Springfield School District,

Sarah Mazze, SRTS Program Manager, Eugene 4J School District

Abra McNair, Communication and Special Projects, PBOT 
Walk and Roll Poster Contest and E-Toolkit Webinar
Learn about the fun new options for continuing walk and roll education and encouragement through the Summer months. 
Speakers:
Whitney Bennett, SRTS Coordinator – Commute Options

Lindsay Huber, Education Programs Manager – The Street Trust
ODOT SRTS Grant Opportunity
In the spring and summer of 2020, the Oregon Department of Transportation (ODOT) will solicit proposals for the second round of new Safe Routes to School (SRTS) Construction funding and Planning assistance. ODOT staff will present a program overview and answer questions about this new opportunity. The presentation will cover SRTS Construction Program specifics including, timeline, eligibility, proposal selection process, match requirements, and proposal development tips. The target audiences include city, county, tribes, transit agency staff, and interested public school representatives. Workshop is open to the general public.
Speaker:
LeeAnne Fergason, SRTS Infrastructure Manager
Action Plan Webinar
The Oregon Safe Routes to School Action Plan is a community-based approach for increasing rates of active school travel. School staff, parents and students work together with community stakeholders, such as city or county staff, non-profits and public health officials to create the SRTS Action Plan. Learn about the template, how to use the online login and develop the plan for your schools.
Speaker:
Brian Potwin, Executive Director, Commute Options
Equity and Communication
While schools are closed, it is a good time for SRTS providers to develop communication tools to engage with school families now and in the future. Learn about best practices for reaching diverse audiences, how to create accessible documents (print, online, and video), inclusive language, and graphic design that is engaging and reflects the community. We'll also provide some tips for applying behavioral theory for more effective communication, with specific examples from Portland and nation-wide SRTS programs.
Speakers:
Hannah Day-Kapell, Principal, Alta

Corrine Montana, SRTS Coordinator, Portland Bureau of Transportation

Xao Xiong, Portland Bureau of Transportation
Beyond the Physical: Mental and Social Benefits of Walkable Communities
Walking and walkability is not only good for our bodies, but it's also good for our minds and interpersonal relationships. Learn about the myriad of benefits of walking that extend beyond our individual physical health. This webinar is intended for those who are familiar with topics and issues related to walking and walkability.
Attendees of this webinar will be able to:
Explain how walking and walkability are associated with social connectedness and a positive sense of well-being.
Give examples of the mental and social benefits correlated with walking and walkability.
Discuss ways walking advocates should be engaging with topics related to this work.
Speaker:
Crystal Bowne: Program Manager, America Walks
Going Big: Using Walk to School Day to Advance Road Safety for Everyone
Learn how Walk to School Day and Vision Zero can join together to lead an entire community towards creating safer places for walking, biking and driving. Each October Walk to School Day events are energizing and get students, families, community leaders and school officials excited about the benefits and possibilities of safe walking and biking to school. Vision Zero is being used by communities across the country to commit to zero traffic deaths and serious injuries. Already, half of surveyed Walk to School Day organizers said their events lead to policy and engineering changes that improve the safety of walking and biking for students throughout the school year. This can spark change to make it safer for the entire community. Hear concrete action steps for how you can start or join action in your community and what applying a "Vision Zero for Youth" approach looks like.  
Speakers:
Nancy Pullen-Seufert: Director, National Center for Safe Routes to School (coordinators of Walk to School Day since 1997, at walkbiketoschool.org); Associate Director, Pedestrian and Bicycle Information Center
Leah Shahum: Director, Vision Zero Network
Slowing Down Traffic Near Your School
Fast moving traffic around schools and neighborhoods prevents students from walking to school in some places. Nationwide, there's growing recognition of the need to slow down traffic and prioritize safety through Vision Zero and other commitments to eliminate traffic deaths and serious injuries.  However, in many places, efforts to lower speeds or control speeding can be met with public pushback or struggle to gain political support. Starting in school zones or areas where children frequently walk and bike may provide the support communities need to address road safety. Hear about ways to slow speeds around schools and examples of what communities have accomplished in making walking and biking to school safer. 
Speakers:
Seth LaJeunesse, Senior Research Associate, UNC Highway Safety Research Center
Jo Anne Judge-Dietz, Public Health Nurse, Olmsted County (MN) Public Health
Bethany Folsom and Mary Snodgrass, Safe Kids Huron Valley, CS Mott Children's Hospital
Youth as Leaders in Improving Walking and Biking Safety
Through Vision Zero for Youth and events like Walk and Bike to School Day, communities come together to create safer places for youth to walk and bike. These efforts also provide an opportunity for youth in to take the lead in promoting safety near their schools and in their neighborhoods. Learn about the role of youth as agents of change from youth leaders who have been engaged in improving their environment for walking and biking and from organizations that work to empower youth as leaders in their communities.
Speakers:
Alison de Beaufort, Founder, Vision Zero Youth Council
Sandy Spavone, Executive Director, Family, Career and Community Leaders of America
Family, Career and Community Leaders of America Student Leaders

Marcia Williams, Vice President of Community Service, Family, Career and Community Leaders of America
Grace Allphin, Vice President of Programs, Family, Career and Community Leaders of America
Learn the Ropes: How to Start Your Safe Routes to School Program – Safe Routes to School National Partnership
New to Safe Routes to School? This webinar will highlight different types of programs and how each was started. Hear from city and school staff on best practices and ideas for how to start a program in your community.
Safe Routes to School Basics
This webinar will provide you with some general information about the SRTS program and discuss the following. What is Safe Routes to School? How the six E's can be used to help affect change in your school community. The SRTS Action Planning Steps, Federal Funding, and available resources.
2019 ODOT Safe Routes to School Funding Opportunities – Oregon Department of Transportation
This webinar is for parties interested in applying for ODOT Safe Routes to School Infrastructure and Non-Infrastructure Grants. Viewers will learn about upcoming funding opportunities, and tips for how to apply.