Donna Short reports that watching the students gain in knowledge, skill and
confidence has been so encouraging. It was especially so for the three students that did not
know how to ride a bike before the classes started who ended up riding a couple miles through
town on the last day. Sweet Home Charter School 5th grade class, Boys and Girls Club
Community Learning Center, and Holley Elementary 5th grade class completed the
program this spring for a total of 55 students. Some of her favorite student quotes from the
community ride on the last day are:
"Can we do this every day?"
"Can we go for a longer ride?"
"That is the first time I've gone down a hill on a bike. Can we do another one?" (even though it
was 100°F as we were pedaling through downtown.)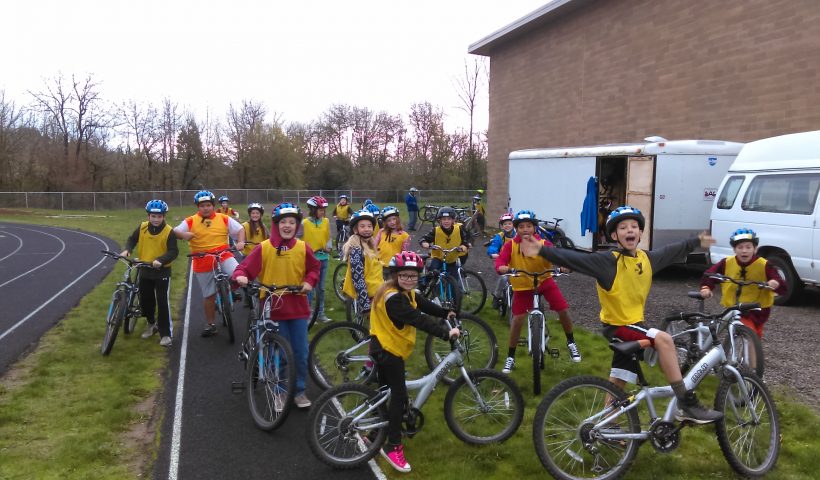 Read more about this terrific accomplishment! 
A great big THANK YOU for the following:
Grants and Donations
Albany Bike Safety Program
Cascades West Council of Governments
Mid-Valley Bicycle Club
Peak Sports Bike Shop, Corvallis
Samaritan Health Foundation
Santiam Spokes Bicycle Club
Security Alarm Corporation
Time and Advice
Jay Thatcher – Bike Safety Instructor
Nancy Meitle – Mid-Valley Bike Club
Rich Olson and Jim Lawrence – Albany Bike Safety program
Katie Trebes – Cascade West Council of Governments and Sweet Home Safe Routes to Schools
committee
Colleen Henry – Sweet Home Safe Routes to Schools committee chair and Junior High principal
Cheryl Hicks, Darel Bidwell, Darin Dixon and Ron Carter – Sweet Home School District
Transportation Department
Russ Anderson – Peak Sports Bike Shop
Doug Robin – Santiam Spokes and Sweet Home Safe Routes to Schools committee
Sophie McGinley – Cascade West Council of Governments
Officer Geoff Hamlin – Sweet Home Police Department
Greg Stephens – Santiam Spokes Bicycle Club
Sandi Law – Santiam Spokes Bicycle Club
We also appreciate all the support and feedback we got from the principals, classroom
teachers, and PE teachers. We learned some lessons too and these will help us provide better
implementation of the fall sessions at Oak Heights, Foster, and Hawthorne.