Safe Routes to School Infrastructure Grant Program Workshop
8/8:SPRINGFIELD 2:30-4:30pm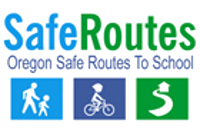 Springfield-8/8:2:30-4p. Learn how to apply for the new ODOT Safe Routes to School Infrastructure Grant Program funds. In the summer of 2018, the Oregon Department of
Transportation (ODOT) will solicit proposals for the first round of new Safe Routes to School (SRTS) Infrastructure funding. ODOT staff will present a program overview and answer questions about this new opportunity. The presentation will cover SRTS Infrastructure Program specifics including,
timeline, eligibility, proposal selection process, match requirements, and proposal development tips. The target audiences include city, county, tribes, and transit agency staff and interested public school representatives. All workshops are open to the general public.
Hosted in conjunction with the Central Oregon Area Commission on Transportation meeting.
More information:
click "How to Apply"
Contact:
ODOT Safe Routes to School Infrastructure Program Manager
LeeAnne Fergason
503-986-5805
LeeAnne.Fergason@odot.state.or.us