2017 Walk+Roll to School Day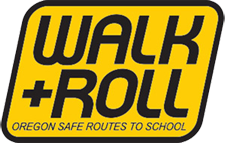 This free, international event begins on the first Wednesday of October each year – this year's event will begin on October 4, 2017. Registration for the 2017 event is open and you can order incentives here! Incentives include stickers, temporary tattoos, pencils, and bandanas. Many more events, activities, training sessions, and development opportunities also occur.
We strongly encourage schools to have students Walk+Roll for the month of October. Your school can choose to participate one day, one week, one day over multiple weeks, or the entire month.