Serving all members of all Oregon communities
What do we mean by equity? Equity in Safe Routes to School recognizes that different people have different barriers to living healthy, fulfilled lives. In order to allow people to get to the same outcome, we need to understand the different barriers and opportunities that affect different groups, and craft our policies, programs, and overall approaches with those various challenges and needs in mind.
Children from low-income families are twice as likely as children from wealthier families to walk to school, but they often face significant traffic and personal safety challenges on the trip to school.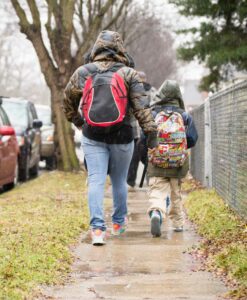 Low-income, urban residents are more likely to experience busy streets, poor pedestrian and bicycle infrastructure, and threats from crime and violence. Low-income, rural communities often lack sidewalks and may see high-speed state highways bisecting their communities. Further, low-income communities and communities of color often have poorer infrastructure and don't have the funding, strong policies, or staffing resources available for building streets that are safe for walking and bicycling.
Equity in Safe Routes to School programs ensures that all children and adults of all economic and social backgrounds as well as people of all physical and mental abilities deserve the right to walk and bike safely in their communities. Oregon Safe Routes to School is committed to advancing active transportation in underserved communities and schools. We aim to create communities that support health for children who are low-income, of color, native, recent immigrants, underserved, or who have disabilities.
Equity needs to be built into each aspect of a comprehensive Safe Routes to School initiative. But equity also needs to be considered separately to ensure that the overall effects of individual considerations are adding up to a meaningful and sufficient investment in the safety and health of low-income students, students of color, students with physical challenges and others.
The Safe Routes to School National Partnership has some great resources related to equity and active transportation: